What To Buy For Mother's Day – Meaningful Mother's Day Gifts
How to tell mom you love her on Mother's day? Meaningful mother's day gifts with a special message would certainly make her smile with happiness and joy.
Besides the 'What to buy for mom' sentimental gifts, you can pamper her by serving her breakfast in bed with her favorite mom rocks coffee mug filled with aromatic coffee or tea.
These lovely presents selling online would put a big smile on mom's face.
Let's check out these lovely gifts for mother's day.
Meaningful Gifts For Mother's Day
Buying a gift for mom on mother's day or her birthday is a great pleasure.
Meaningful gifts, sentimental gifts that bring a smile or even tears to her eyes are much treasured.
Disclosure: I may be compensated through the links in the post below but at no extra cost to you. The opinions are my own
Mother's Day Presents With Meaningful Messages
Meaningful gifts for a mother from daughter and son
Made In USA Glass Baron Mom "Greatest Gift" with Pink Rose Figurine
A pretty pink rose figurine, a loving message and a glass display stand make up this great gift for mother.
It measures 5.75″ in length.
The flowers are hand made and then individually applied to the glass sculpture.
Old Country Roses Musical Teacup
A beautiful teacup and saucer set accented with 22-karat gold and filled with lovely handcrafted colorful flowers is such a pleasant and refreshing sight.
Wind it up and enjoy Pachelbel's "Canon in D" playing softly in the background.
This whimsical roses musical teacup makes a lovely nostalgic gift for mom.
Mom Butterfly Mother Suncatcher with Pressed Flower Wings
This lovely mom butterfly suncatcher comes with real colorful flowers pressed between its glass wings decorated with metal edges.
Beautifully decorated with a silver hanging heart charm engraved with the word 'mom', the butterfly measures about 3″ wide and is about 7.5″ in length when hanging.
The picture opening is about 1.5″.
Silver chain is provided for easy hanging.
You can get one for grandma too.
This set of mom and grandma butterfly suncatcher has the word 'grandma' and 'mom' engraved on the hanging heart charm.
What I Love About You, Mom
Telling mom why she's the best mom ever – how sweet!
In this love journal for mom, you can fill it up with your love, your jokes and your  heartfelt memories of joyful times together.
The hardcover journal comes with 70 pages to fill up with your love and memories.
Get ready some tissues for her as she starts to read the lovely words within.
Joyful tears will start to fall.
Or perhaps mom would prefer to write down her many happy memories herself. Then the Dear mom, from you to me journal would make a lovely gift for her.
Mom Your Love Woodgrain Rose Mother Gift Music Jewelry Box
This is a beautifully crafted musical jewelry box that comes with wood grain finish, gold brushing and velvet lining on the inside of the box.
It plays Wind Beneath My Wings and comes with a photo frame lid that you can keep a photo of you and mom.
It has the words 'Mom your love means the world to me' engraved on the lid. However, if you insert in a photo, the touching message would be hidden from view.
The inside cavity of the wood grained musical box measures 2″ x 3″.
A lovely musical box with an equally love-ly message to make mom feel so special and so loved – a meaningful gift for mother's day or mom's birthday.
You can also get another similar wooded musical jewelry box playing a different tune, 'What a wonderful world'.
You can also get it with another equally touching message "Mom an angel who holds me up when I find it hard to fly".
Jewelry Holder Tree with Bird Nest
This is a beautifully crafted jewelry holder tree with spread out branches and leaves as well as a wired bird nest for holding mum's earrings, bracelets and necklaces.
The crafted leaves can hold up to 48 pairs of earrings. The branches are great for dangling mom's necklaces and bracelets. Even the nest can be used to hold smaller items.
Now that's a neat and lovely way to display mum's jewelry. She won't have to search for them in her drawer etc.
The black finished display tree sits on a black display stand.
The whole display measures approximately 17″ x 15.35″ x 3″.
The display tree together with the little bird and its outstretched wings would look more beautiful with mum's jewelry hanging on its branches.
Personalized "To Mom with Love" Canvas Framed Art
This sentimental personalized canvas framed art measures 16″ x 16″ and comes with a black wood frame.
You can personalize with your special touching message of love – up to 30 characters.
Hampers/Gift Baskets For Mother
A mother's day gift box or basket containing her favorite gourmet food or spa products is always a pleasant surprise.
A spa gift basket not only looks luxurious but smells great too.
Well, you have lots of choices.
Rose Spa Gift Set
Let mom enjoy a relaxing bath with this fragrant rose spa gift set lovingly packed in a metal-like spa caddy beautifully tied with a pink ribbon.
Bath salts, scrub, shower gel, bath tea, soap, body sponge and more!
Pamper your mom with this lovely fragrant scent spa bath and body gift set especially if she loves the smell of roses.
Matcha Tea Gift Set
If your mom loves her cup of tea every morning, this matcha tea gift set would be perfect.
This healthy matcha green tea set includes 1 oz of USDA organic matcha green tea powder, handmade matcha tea bowl, ceramic matcha whisk holder, handmade bamboo whisk and bamboo spoon packed in a lovely gift box.
The organic culinary grade matcha green tea is grown on sustainable farms in the pristine mountains of the Fujian province in China.
This basic set of matcha tea essentials would make a great gift for tea lovers or those just starting out on their tea journey.
If you get the green matcha set, you get the battery powered matcha whisk instead of the bamboo whisk which is included in the black matcha set.
Mother's Day Coffee Mugs
Whether cute mugs or funny coffee mugs for mom, those with meaningful messages make great gifts.
Let's check out some awesome mom coffee mugs that would make great Mother's day gifts.
Best Mom Ever Jumbo Coffee Mug 20 oz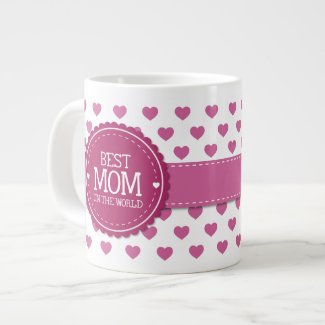 Best Mom in the World Pink Hearts and Circle v2 Large Coffee Mug
A premium jumbo ceramic coffee mug made in USA, this 20 oz coffee mug comes with the most loving message 'Best Mom In The World'. Loving pink hearts decorated the rest of the jumbo mug sending out a strong message of love
Whether your mom is using it for drinking coffee, tea or her healthy juices, it will soon become her favorite mug for all her drinks.
The mug can be used for hot or cold drinks, soups or cereals.
It can be used in the microwave and is dishwasher safe.
It stands at a height of 4.5″ with a 3.9″ diameter.
This Mom Rocks Coffee Mug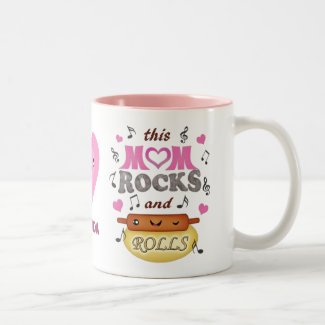 Funny Mother's Day Mom Rocks Mug
A white ceramic coffee mug for mom with the loving message 'This mom rocks and rolls'.
It is available in 11 oz. or 15 oz.
It can be used for hot or cold beverages and is dishwasher as well as microwave safe.
Mother's Day Gifts For New Moms
Related post : New mom's gifts
Personalized New Mom Coffee Mug, 15 oz
Choose either the pink or blue and personalize it with a short loving message, any numeric date or name.
This is a new mom ceramic coffee mug.
The 15 oz ceramic coffee mug is great for new mom or even dad to relax over a cup of coffee or tea.
It is safe to use in the microwave and dishwasher.
This makes a perfect gift for new parents.
New Mom and Dad Coffee Mug Set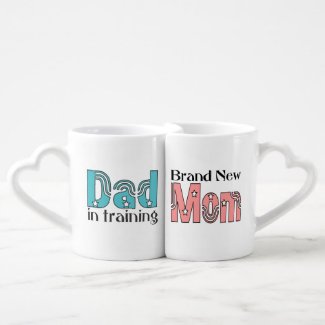 New Mom and Dad Couples Mug Set
So, have you decided on what to buy for your mom this Mother's day?